"Horse Spirit Shaman Journey"

 a  Women's Retreat
at Cabuya Beach in Beautiful Costa Rica!
with
 Shamanic Practitioner & Shamanic Retreat Leader, Joyce St. Germaine, M. Ed., CHt., RYT-200 and Teacher of Horse's Whispers & Horse Spirit Healing Retreat Facilitator, Letitia Watson


*January 21-27, 2024
This January retreat is filled but another is planned for
February 26 -March 2, 2024!
Sign up ASAP!

For the past two years, you have heard me speak with deep gratitude about my life-changing experiences with a special herd of horses in Costa Rica. I am deeply honored to share these experiences with you in a private retreat lovingly designed just for our group! 

You are invited to spend 5 days in the presence of a herd of loving, gentle horses at Resonance Ranch, a healing sanctuary where horses are empowered to share their innate gifts to uplift and heal the human heart. 


Under the guidance of gifted visionary, Letitia Watson and her skilled Resonance Ranch staff, you will create meaningful and joyful connections in a space which is sacred for both humans and horses. You'll discover healing, joy, adventure, and a deep intuitive connection that will be life-transforming. 
There will even be a day
of WATER PLAY (ocean or river) 
with the horses (weather permitting)
and a special gratitude closing activity
on our final day!
These deep heart-connection, physical plane experiences will be balanced and enhanced by Shamanic journeying, interacting with horses in non-ordinary reality. You'll participate in ceremonies on the beach, and enjoy Shamanic activities designed to deepen your energetic and heart-centered connection to the earth, sky, elements, animals, plants, minerals, and most of all… horses. 

You'll learn how to develop loving relationships with a single horse and with a herd. In addition, you'll learn how to seek their guidance and wisdom, you'll see that all horses and herds are connected, and you'll understand how to use this retreat experience to deepen the horse/human connection while enhancing the lives of horses everywhere.
Our lodging will be simple and comfortable, shared rooms in private houses just a short walk to the ranch and the beach. We will begin our days with a Shamanic Ceremony on the beach, There will be 5 half-days (mornings) working with Letitia and her herd of 15 horses at Resonance Ranch for horse-heart work. Afternoons and evenings are ours to enjoy. There may be opportunities to ride bareback with staff support. Private equine therapy sessions are also available. The charming town of Montezuma is just a short taxi ride away where we can stroll to shops, cafes, the beach, or hike to a waterfall.  We will end most days at the beach with Shamanic journeying, ceremonies, or reflecting on our horse experiences at the ranch. 
A passport is required but special medical tests, vaccinations or inoculations are not required. Passports may not expire within 6 months of our trip and thus need to be renewed if they are due to expire. Don't delay as it is taking longer than usual to get passports and renewals. It helps to have a confirmed flight and to pay for expedited processing and shipping. 
*It's important to note that we will arrive in San Jose, Costa Rica on January 20, one day early, and stay at a lovely, family-owned hotel near the airport.To get to the ranch,
we will need to take a 20-30 minute flight to Tambor on Sansa Airlines on 14-seat passenger planes. A taxi will take us to Resonance Ranch from there. 
Past experience has taught me that arriving on the same day as our Sansa flight has often resulted in missing that flight due to problems with connecting flights in the US or with customs in Costa Rica. January weather brings some unexpected surprises! After much comparison, I believe we have chosen the best option. My trusted travel agent will book our flights from Hartford, CT, but you may join us from anywhere! If you have earned frequent flyer or loyalty miles, use them!
This January retreat is filled but another is planned for 
February 26 -March 2, 2024!
(We will arrive in Costa Rica on February 25.)
Meet your Facilitators:
Joyce St. Germaine is an award-winning Teacher, Artist, Certified Shamanic Practitioner, Certified Shapeshifting Practitioner, Registered Yoga Teacher, Spiritual Counselor, and Certified Hypnotherapist. She has taught Shamanism, Yoga, Art and Spiritual Studies throughout the US, in Canada, Mexico, Belize, Costa Rica and Italy. Highly trained in various Shamanic traditions, she blends the teachings of many cultures in traditional and non-traditional ways. She is Owner/Director of The Sacred Journey Center for Spiritual Studies in CT, USA. www.thesacredjourney.biz           jsgermaine@aol.com              (860) 675-9706.       WhatsApp +18606703848
Letitia Watson is an internationally renowned Teacher of Horse's Whispers for 48 years, Innate Horse Shaman Healing Facilitator, Balanced Horseback Partnership Coach, Certified Equine Gestalt Coaching Method Empowerment Coach. She offers retreats, certifications, apprenticeships, community programs, immersions and longer Residential collaborative stays. In addition, Letitia offers Equine Gestalt coaching for empowering purpose and joy with the wisdom of the horse. She is owner of Resonance Ranch in Cabuya, Costa Rica.
www.horsespirithealing.com               horsespirithealing@gmail.com         WhatsApp +506 8851 1735

Spaces are extremely limited, reserve yours! 



6 Nights Shared Lodging (sorry no private rooms)

5 Half-Days of Horse Connections at Resonance Ranch

Daily Shamanic Journeying and Ceremonies.

Delicious Costa Rican Breakfast Daily
Airfare (Int'l approx. $650/700+ Round Trip, Sansa approx. $250+ RT)

First Night Hotel Room (approx. $60 per person w/ breakfast, 2 beds per room)

Ground Transportation (local taxis, minimal cost)

Lunches/Dinners (Restaurants are within walking distance, delivery or catering available)

Optional Excursions, or Private Sessions

Gratuities
Deposit of $700 due ASAP to hold your spot (personal checks to The Sacred Journey or Venmo to me)

$700 due on October 15

Final payment of $500 due December 1
**No refunds unless your canceled spot can be filled. (Travel insurance is strongly advised.)


TO RESERVE, CALL OR TEXT
(860)670-3848. 
Be sure to include your name.


Interested? Contact me asap with any questions!


Pura Vida!
Joyce
---


www.thesacredjourney.biz
jsgermaine@aol.com
(860)675-9706 Landline

 

Joyce St. Germaine, M.Ed., CHt., RYT-200
THE SACRED JOURNEY
Center for Spiritual Studies
29 Davis Road, Burlington, CT 06013
(Please note: Our Driveway is on Duane Lane)




~~~
Empower Yourself!




Join us on a Self-Care, Self-Awareness,




Self-Discovery, Self-Healing Retreat




in Beautiful San Ignacio, Belize






July 23-29, 2023 


with
Joyce St. Germaine, M.Ed., CHt., RYT-200
of The Sacred Journey
and
Kerrie Fleming, LMT, CNRT, CST, MMP
of Soul Bodywork
Have you noticed that you seem more reactive to everything around you? That you feel incomplete? Out-of-balance? Out-of-touch? Maybe you don't even recognize yourself any mor!.  Here is your opportunity to open,  flow, balance,  restore, and  reclaim yourself through  powerful healing practices, loving offered in the sacred, nurturing jungle of Belize. The land, water, air, trees and plants, rocks and minerals, animals, people, ancient and modern cultures of Belize will cradle you as you heal.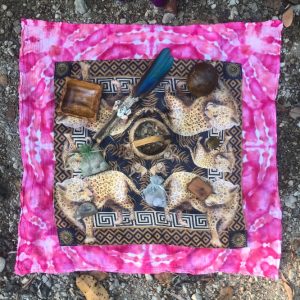 Join two highly experienced practitioners and teachers on a Belizean jungle retreat, designed to be deeply healing and incredibly self-empowering. It will combine both powerful powerful shamanic practices and physical/energetic practices.
This retreat will focus on Soul Retrieval and Vagus Nerve Rebalancing. 
Soul Retrieval is an ancient shamanic practice which is based on the understanding that, during times of physical, emotional, or spiritual trauma, little bits of soul essence break away and hide where they feel safe. These soul parts may remain in hiding for years or even lifetimes. People commonly describe feeling as if "something's missing" or not feeling "whole".
Vagus Nerve Rebalancing works with the principle that trauma is held in the body and greatly affects the nervous system and our responses to life on every level. It often appears as malfunctioning polyvagal nerve, a topic which is gaining much attention in the health and wellness field. When this is out of balance we have brain fog & confusion, lack of energy & motivation, digestive issues and  sensitivity. Our body just needs a gentle reminder of being back into balance, peace & love.
Joyce will guide you through shamanic practices and journeys, help you to identify lost soul parts, prepare them to return, and safely retrieve them. You will then learn how to energetically transfer these soul parts to your core essence, restoring your sense of wholeness and self.
Kerrie will teach and assist you with techniques to release trauma which has been stored in your body, thus creating space in the body for receiving more soul parts. You will experience a shifting of the state of your nervous system and a rebalancing the vagus nerve. Breathe deeper, feel happy again.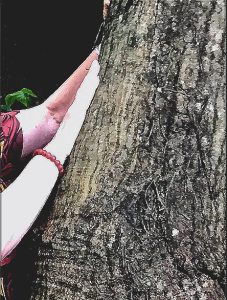 You will be carefully guided and completely supported as you heal. This exploration and fusion of Shamanic  and Bodywork practices is ground-breaking and promises to bring about true healing and self-empowerment!
Although we will work deeply and intensely, there will be ample time to enjoy the treasures of Belize on expertly guided day trip to breath-taking natural sights and astonishing ancient cultural sites. Hike, swim under a waterfall, climb a pyramid, nap in a hammock…we promise to offer a much-needed balance of work and play!
Our trip in Belize begins with an airport pick-up by our private driver and guide, my dear friend, Philip Mai, in our private van or bus. Philip will be our driver and guide for the entire week. We will enjoy lunch en route to Pine Ridge Mountain Lodge, where we will meet our host Neil and his friendly staff. They will help us to get settled and prepare a delicious dinner for us.
Pine Ridge Mountain Lodge is a family friendly, authentic jungle eco-lodge, situated on the stunning Pine Ridge Nature Reserve. It is home to a 1,000-foot waterfall, two rivers, three creeks, hundreds of bird species, stunning tropical gardens, and orchid-lined paths. The entire lodge is ours with dedicated gathering space. We will have free wi-fi and delicious, mostly organic food. Then we will fall asleep to the soothing sounds of the jungle in nicely appointed cabanas and rooms.
We have planned guided visits to ancient Maya Ruins and the sacred Rio Frio Cave, Rio On Pools, Green Hills Butterfly Ranch and their on-site hummingbird garden. We will also experience waterfall playing, moon whispering,  Artbox gallery with local artisan's crafts, and birdwatching with my dear Maya friend, Philip Mai, known as "The Birdman of Belize". This includes a visit to his organic farm, home to a 500-year old Ceiba tree, where we will hold a special shamanic ceremony. Under his wife, Nila's loving direction, we will help prepare a traditional Maya dinner to enjoy with my adoptive family.

Escape to the Natural Wonders of the Belizean Jungle!
*$1850 (triple/quadruple, per person)
*$2250 (double, per person) 
 *$2850 (single)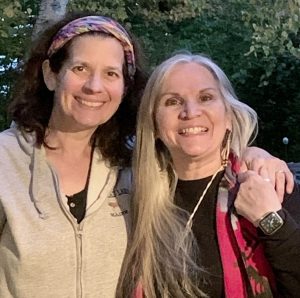 Included:
6 Nights Lodging
6 Breakfasts6 Dinners
Airport Transfers
Shamanism Workshops (Soul Retrieval Focus) and Ceremonies
Bodywork Workshops (Trauma Release Focus) and Activities
A Supportive Circle of Kindred Spirits
Not Included:
Airfare
Lunches
Transportation and Admission Fees for Off-Site Excursions
Gratuities
Gasoline Costs Will be Shared by the Group
Please contact Joyce: jsgermaine@aol.com or (860) 675-9706 (land line) or Kerrie 203-217-2769 or ke
rrie@soulbodywork.net with questions or to register. Upon registering, you will be given our travel agent's contact info to book your flights.
A non-refundable deposit of $750 is due ASAP to hold your space. Second payment of $500 is due January 1, third payment of $500 is due March 1, everyone's final payment is due June 1. (a refund will be issued only if we can fill your canceled spot.)
Joyce St. Germaine, M.S. Ed., CHt., RYT-200, (Right) is an award-winning Teacher, Certified Cross-Cultural Shamanic & Shapeshifting Practitioner, Registered Yoga Teacher, Spiritual Counselor, Certified Hypnotherapist & Past Life Regressionist, Energy Worker, and International Retreat Leader. She combines over 40 years of experience as a teacher and spiritual explorer to develop unique workshops and experiences for open-hearted students of all ages.
Kerrie Fleming, LMT, CNRT, CST, MMP, (Left) is a Certified Neural Reset Therapist & Medical massage practitioner, Licensed Massage Therapist, Reiki & Integrative energy therapy Master teacher, Cranial sacral Vagus nerve balancing, Pet energy and bodyworker. Intuitively she customizes a  fusion of Techniques to improve, reset, & recharge her clients mind and body into a place of healing.
---
Rest & Renew – Jungle Style!
A Wellness Retreat at The Sanctuary at Two Rivers
in Cabuya, Costa Rica
March 17-23, 2024 with
Joyce St. Germaine, M.Ed., CH.t, RYT-200 and
Leslie Gordon, E-RYT-500
Join us for a wellness retreat.
   
Celebrate the Vernal Equinox
in the jungles of Costa Rica!
THIS RETREAT IS FILLED; CHECK BACK FOR FUTURE DATES!
      
The feedback we received from out recent retreat was amazing and many people have expressed interest in joining a future retreat.
ANYONE feeling the call of the jungle is invited to experience the magic which awaits!

You WILL return fully relaxed and restored.
Your highly experienced, award-winning instructors have lovingly created a retreat with offerings such as meditation, sound healing, yoga/yoga Nidra, past life regression, guided imagery, journaling, shamanism, art, journeying, reflexology, and palmistry.
Participate in whichever activities you wish, explore on your own, or relax by the pool. No experience of any kind is needed to enjoy these offerings.

The Sanctuary at Two Rivers is a private, solar-powered eco-retreat center, nestled on 40 acres of nature preserve, with luxury treehouse lofts and studio lodging, organic gourmet vegetarian and vegan food, open-air yoga/ meditation studio,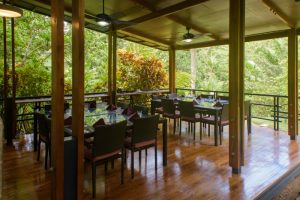 and Wellness Center located in the mountainous jungle of Costa Rica. The Sanctuary at Two Rivers is highly rated by Vegetarian Times, New York Times, Self Magazine, Fitness Magazine, and Yoga Journal. MINDBODYGREEN.COM ranks it as "#1 in the Five Amazing Yoga Getaways in the World"! Visit www.thesanctuarycostarica.com to learn more about this extraordinary location!
Limited spots are available.
Reserve yours soon!

Rest & Renew Retreat Includes:     
6 Nights & 7 Days in Solar Powered Tropical Luxury Treehouses on 40 Private Jungle Acres
Morning and Evening Wellness Activities or Workshops with Joyce and Leslie
Breathtaking Yoga, Workshop, and Meditation Spaces
Use of Sanitized Yoga Mats, Straps, and Blocks
Organic Artistic Gourmet Vegetarian and Vegan Food
Water, Tea, Coffee, Snacks
Secluded Waterfalls, Tropical Gardens, Beautiful River, Hiking Trails, Lush Forest, and Local Wildlife
Relaxing Hammocks, Swimming Pool
Costa Rican Taxes
Optional Activities (additional charge)
Private Sessions with Leslie or Joyce
Zip Lining Adventure, Horse Spirit Healing, Montezuma Shopping, Santa Teresa Beach Excursion, Surf Lessons, Tortuga Island Boat Ride, and More!
Sanctuary Wellness Spa Services
*$2300-Per Person/Double, $3300-Single (same costs as 2023)
NOT Including Airfare, Ground Transportation, and Gratuities
*It's important to note that we will arrive in Costa Rica one day before the actual retreat which begins on March 17, 2024. We strongly suggest spending arrival night, March 16 near the airport in San Jose. We partner with a lovely, family owned  hotel there. Then we will take a morning 20-minute flight on Sansa Airlines (average12-seats), to Tambor. (There is a 5-hour ferry ride if you prefer.) The Sanctuary will arrange our pick-up in Tambor.
Upon registering, you will be given our travel agent's contact info to book your flights and help with other arrangements. He has the greatest availability at the best prices.
---
Sacred Sedona Retreat

A Shamanic Experience
with Joyce St. Germaine, M. Ed., CHt., RYT-200
CHECK BACK FOR UPCOMING DATES!
Join us to explore the best of Sedona, including sacred rock formations, energy vortexes, stunning vistas, and renowned spiritual sites!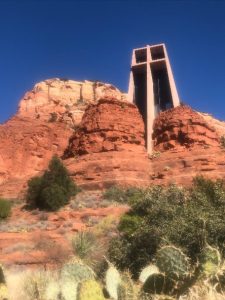 We will stay in Cornville, just 15 minutes from Sedona, on a stunning mixed elevation, 11+ acre private retreat with two separate houses, surrounded by breathtaking sunrise views over the lush Verde Valley. Features include fully equipped kitchens, beautifully appointed décor throughout displaying the traditional architecture, textures, patterns, and colors of the southwest, a central great room, wi-fi, 75" smart TV, fireplaces, washer/dryer, enclosed patio, and a huge roof top deck for star gazing. Five-star rated on VRBO, this magical, secluded outdoor refuge is an inviting place to relax in the stunning views of the rich natural surroundings, just minutes from unforgettable sacred sites.
Our days will begin with a shamanic ceremony to set the tone and intention for our day together, and a healthy catered breakfast. After exploring various sacred and not-to-be-missed sights of Sedona by private van, we will return to our oasis in the desert to a delicious catered dinner and end our day with a shamanism workshop and/or journey. There will be ample time during the week for group discussion, self-reflection, journaling, and exploration of the property. Enjoy a perfect blend of group dynamics and solitude; expect your Sacred Sedona Retreat experience to be powerful and transformative!
We are filling up quickly! Reserve your spot ASAP! Eight spots are already taken.
As of 6/22, only TWO Single Rooms with a queen bed (for singles or couples) and
ONE Double Room with two queen beds are left. They will fill soon.
$1500 Triple                            $1800 Double                          $2200 Single
Included:
7 Days/6 Nights at a stunning private estate on over 11 acres in Cornville, AZ, (15 min from Sedona)
Airport Transfers and private van on all excursions in Sedona (gas costs will be shared)
Shamanism Workshops/Journeys & Ceremonies daily
Delicious Catered Breakfast & Dinner on non-air travel days
Not Included:
Airfare (contact me for our travel agent's info) As of 6/22, round-trip Airfare is $526.20 including taxes and fees.
Lunch will be on your own as we will be on daily excursions
Entrance fees if required for all destinations and sites
Gratuities
Gasoline Costs (will be shared by the group.)
Tentative sites include Bell Rock, vortex Airport Mesa for sunrise or sunset views, Chicken Point Overlook and Boynton Vista, the Birthing Cave, Cathedral Rock, Holy Cross Chapel, and shopping for crystals and local crafts. These are all weather permitting and as time allows.
---
Questions?
Contact Joyce at (860) 675-9706 or  jsgermaine@aol.com
Check back for next Costa Rica and Belize Retreats!
---