Why Choose a Retreat
Instead of a Vacation?

The differences between a vacation and a retreat are varied and each has its own benefits. A vacation may be relaxing or exhilarating, depending on the traveler's preference. The location may be close by or far away. The food and lodging are usually fantastic. A retreat may be all the above and so much more. A retreat invites personal growth in body, mind, and spirit. This Belize Jungle Retreat is designed to offer the best of both a vacation and a retreat.
What should you expect on THIS retreat?
You will find it relaxing AND exhilarating, awed by exotic jungles, mountain forests, waterfalls, tropical flora, and fauna. Be nourished by delicious, organic meals and sleep in a nicely appointed cabana with a jungle flair. A private driver and guide who meets the highest Belizean government standards, will escort you to spectacular ancient Maya pyramids and pyramids. Your feet will follow the same paths that have been walked for thousands of years: choose to
climb the same steps to the top of the pyramid or rest in meditation at the base. Visit a fair-trade artisan gallery with authentic local crafts. Hike, nap in a hammock, swim under a waterfall, and participate in lovely shamanic ceremonies. Delight as butterflies lightly land on you at a butterfly farm and hummingbirds circle around you, just inches away. Visit a sacred, open ended cave with soft sand and beautiful water. Explore sprawling natural pools, lie on beautiful smooth rocks and dangle your feet in the cool. refreshing water.
Spend the week in an intimate circle of support.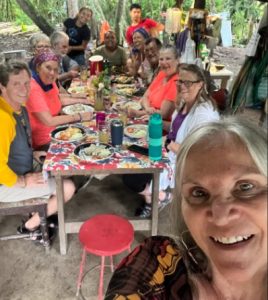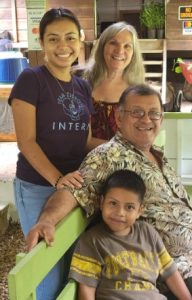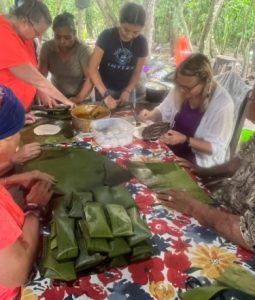 Philip Mai, our driver/guide is a dear friend of mine, and his Maya family is now my family. You will be warmly welcomed at the airport, driven in our private van or bus, and escorted to our private eco-lodge on a beautiful nature reserve. Philip will drive and escort us on every excursion and share his incredible knowledge about every site. In addition, you will spend time with Philip's family on their organic farm. Under his wife, Nila's loving instruction, you'll help prepare an authentic Maya meal in a traditional outdoor kitchen. Philp and Nila invite you to gather around their 500-year-old ceiba tree, where Joyce will lead a special shamanic ceremony.
Learn about Shamanism and Shamanic Soul Retrieval. Experience shamanic journeying, safely guided by drumming or rattling into theta brainwave states, the states of unlimited possibilities. Explore alternate realities to grow and develop relationships with helping spirits, animals, and other allies. You'll understand how incidents of physical, emotional, or spiritual trauma caused little bits of your Soul Essence to break off and hide in safety. Sometimes they lie in hiding for years or lifetimes. Often, Soul Retrieval requires that a shaman journey on behalf of another person to retrieve lost soul parts. With proper training and guidance, you'll learn how to do Self-Soul Retrieval. This technique is sometimes considered to be more empowering and to bring deeper healing, as the ultimate responsibility for healing always lies within the person seeking healing. Under the direction of a highly trained and experienced, Shamanic Practitioner and Soul Retrieval Practitioner, you'll be safely guided to find these lost soul parts, retrieve, and restore them into your true soul essence.
Look deeply within.
Become an active participant in your own healing.
Feel like your true self again!
Learn about your Vagus Nerve, how it regulates your reaction to the world around you and how it effects your body. You will be guided to learn how to recharge and reset your Vagus Nerve to restore balance in your life. Peace and calmness are your natural states of being. However, they are often lost due to stress, as we go about daily living. The physical component of who you are, your body, is your best ally, and you will learn to listen and respond to your body's messages and cues as you move towards improved health. You'll understand why this is a topic which is gaining much attention in the health and wellness field.
An out-of-balance Vagus Nerve is known to cause brain fog, confusion, lack of energy and motivation, digestive issues, depression, and sensitivity. Under the guidance of an experienced Licensed Massage Therapist with specialized training as a Certified Neural Reset Therapist, you'll be assisted in releasing this trauma and rebalancing your Vagus Nerve, also incorporating components of Cranial Sacral Therapy. You'll understand that this trauma was quite literally, taking up space within you…space which could have been filled with creative energy, good health, positive thinking, unlimited possibilities, and so much more. You'll be invited to free this space and ready it for restoration and renewal, as lost soul parts are retrieved.
This fusion of Vagus Nerve Rebalancing and Shamanic Soul Retrieval is unique and groundbreaking!
It is an opportunity to empower yourself in a safe and nurturing circle of like-minded people, committed to healing. Joyce and Kerrie are partnering in their areas of expertise to offer you a week of healing and transformation in the safe, nurturing embrace of the jungle. You will return home with useful tools to continue your path of self-healing and self-empowerment.
No previous Shamanic or Bodywork experience is needed!
Embrace the balance of work and play on this very sacred retreat!
 ~~~
Empower Yourself!
Join us on a Self-Care, Self-Awareness,
Self-Discovery, Self-Healing Retreat
in Beautiful San Ignacio, Belize

July 23-29, 2023
with
Joyce St. Germaine, M.Ed., CHt., RYT-200
of The Sacred Journey
and
Kerrie Fleming, LMT, CNRT, CST, MMP
of Soul Bodywork
Have you noticed that you seem more reactive to everything around you? That you feel incomplete? Out-of-balance? Out-of-touch? Maybe you don't even recognize yourself any mor!.  Here is your opportunity to open,  flow, balance,  restore, and  reclaim yourself through  powerful healing practices, loving offered in the sacred, nurturing jungle of Belize. The land, water, air, trees and plants, rocks and minerals, animals, people, ancient and modern cultures of Belize will cradle you as you heal.
Join two highly experienced practitioners and teachers on a Belizean jungle retreat, designed to be deeply healing and incredibly self-empowering. It will combine both powerful powerful shamanic practices and physical/energetic practices.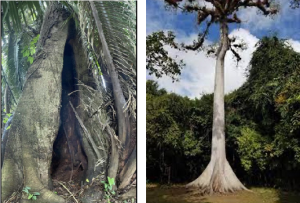 This retreat will focus on Soul Retrieval and Vagus Nerve Rebalancing. 
Soul Retrieval is an ancient shamanic practice which is based on the understanding that, during times of physical, emotional, or spiritual trauma, little bits of soul essence break away and hide where they feel safe. These soul parts may remain in hiding for years or even lifetimes. People commonly describe feeling as if "something's missing" or not feeling "whole".
Vagus Nerve Rebalancing works with the principle that trauma is held in the body and greatly affects the nervous system and our responses to life on every level. It often appears as malfunctioning polyvagal nerve, a topic which is gaining much attention in the health and wellness field. When this is out of balance we have brain fog & confusion, lack of energy & motivation, digestive issues and  sensitivity. Our body just needs a gentle reminder of being back into balance, peace & love.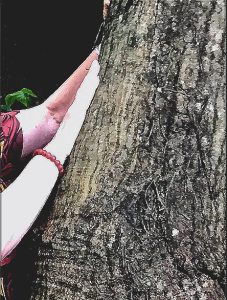 Joyce will guide you through shamanic practices and journeys, help you to identify lost soul parts, prepare them to return, and safely retrieve them. You will then learn how to energetically transfer these soul parts to your core essence, restoring your sense of wholeness and self.
Kerrie will teach and assist you with techniques to release trauma which has been stored in your body, thus creating space in the body for receiving more soul parts. You will experience a shifting of the state of your nervous system and a rebalancing the vagus nerve. Breathe deeper, feel happy again.
You will be carefully guided and completely supported as you heal. This exploration and fusion of Shamanic  and Bodywork practices is ground-breaking and promises to bring about true healing and self-empowerment!
Although we will work deeply and intensely, there will be ample time to enjoy the treasures of Belize on expertly guided day trip to breath-taking natural sights and astonishing ancient cultural sites. Hike, swim under a waterfall, climb a pyramid, nap in a hammock…we promise to offer a much-needed balance of work and play!
Our trip in Belize begins with an airport pick-up by our private driver and guide, my dear friend, Philip Mai, in our private van or bus. Philip will be our driver and guide for the entire week. We will enjoy lunch en route to Pine Ridge Mountain Lodge, where we will meet our host Neil and his friendly staff. They will help us to get settled and prepare a delicious dinner for us.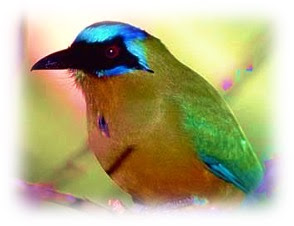 Pine Ridge Mountain Lodge is a family friendly, authentic jungle eco-lodge, situated on the stunning Pine Ridge Nature Reserve. It is home to a 1,000-foot waterfall, two rivers, three creeks, hundreds of bird species, stunning tropical gardens, and orchid-lined paths. The entire lodge is ours with dedicated gathering space. We will have free wi-fi and delicious, mostly organic food. Then we will fall asleep to the soothing sounds of the jungle in nicely appointed cabanas and rooms.
We have planned guided visits to ancient Maya Ruins and the sacred Rio Frio Cave, Rio On Pools, Green Hills Butterfly Ranch and their on-site hummingbird garden. We will also experience waterfall playing, moon whispering,  Artbox gallery with local artisan's crafts, and birdwatching with my dear Maya friend, Philip Mai, known as "The Birdman of Belize". This includes a visit to his organic farm, home to a 500-year old Ceiba tree, where we will hold a special shamanic ceremony. Under his wife, Nila's loving direction, we will help prepare a traditional Maya dinner to enjoy with my adoptive family.

Escape to the Natural Wonders of the Belizean Jungle!
*$1850 (triple/quadruple, per person)
*$2250 (double, per person) 
 *$2850 (single)
Included:
6 Nights Lodging
6 Breakfasts
6 Dinners
Airport Transfers
Shamanism Workshops (Soul Retrieval Focus) and Ceremonies
Bodywork Workshops (Trauma Release Focus) and Activities
A Supportive Circle of Kindred Spirits
Not Included:
Airfare
Lunches
Transportation and Admission Fees for Off-Site Excursions
Gratuities
Gasoline Costs Will be Shared by the Group
Please contact Joyce: jsgermaine@aol.com or (860) 675-9706 (land line) or Kerrie 203-217-2769 or kerrie@soulbodywork.net with questions or to register. Upon registering, you will be given our travel agent's contact info to book your flights.
A non-refundable deposit of $750 is due ASAP to hold your space. Second payment of $500 is due January 1, third payment of $500 is due March 1, everyone's final payment is due June 1. (a refund will be issued only if we can fill your canceled spot.)
Joyce St. Germaine, M.S. Ed., CHt., RYT-200, is an award-winning Teacher, Certified Cross-Cultural Shamanic & Shapeshifting Practitioner, Registered Yoga Teacher, Spiritual Counselor, Certified Hypnotherapist & Past Life Regressionist, Energy Worker, and International Retreat Leader. She combines over 40 years of experience as a teacher and spiritual explorer to develop unique workshops and experiences for open-hearted students of all ages.
Kerrie Fleming, LMT, CNRT, CST, MMP, is a Certified Neural Reset Therapist & Medical massage practitioner, Licensed Massage Therapist, Reiki & Integrative energy therapy Master teacher, Cranial sacral Vagus nerve balancing, Pet energy and bodyworker. Intuitively she customizes a  fusion of Techniques to improve, reset, & recharge her clients mind and body into a place of healing.
Joyce St. Germaine
M.S. Ed., Cht., RYT-200
US Justice of the Peace Association
Joyce is a Certified Shamanic Practitioner and Certified Shapeshifting Practitioner. Her specialty is Cross-Cultural Shamanism, combining traditional and non-traditional techniques. She also works extensively as a Certified Hypnotherapist/Instructor and Past Life Regressionist. Widely known for her work as a spiritual counselor for nearly 30 years, Joyce has helped clients around the world to gain insights to assist them on their personal and spiritual paths.

 

Active as a Spiritual Studies Teacher, Artist, and Paranormal Investigator, Joyce conducts monthly study groups in "Psychic/Spiritual Development", "Shamanic Studies", and "Spirit Detachment Training". She teaches other workshops such as "Self Hypnosis for Self Empowerment", "The Soul Mate Reunion", "Ancestral Healing", "Palmistry", "Astral Projection", "Energy Healing", "Spirit Guide Connections", and "Past Life Regression". Joyce recently completed her Yoga Teacher Training as is recognized as a RYT-200 by The Yoga Alliance. Combining Shamanism and Yoga, often infused with Vibrational Gong Energy, she also leads international retreats to Costa Rica and Belize. Sworn in as a CT Justice of the Peace in 2017, she offers shamanic and nature-inspired marriage ceremonies and renewals. Believing that children are beautifully connected to spirit and to the natural world, a free Children's Circle is held regularly as this special community grows and blossoms.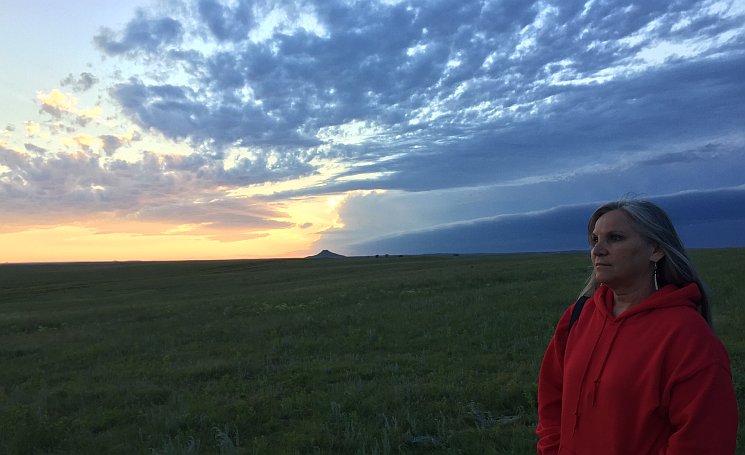 Joyce has developed unique and highly effective healing and clearing techniques and is often consulted by police departments, mental health professionals, and paranormal investigators in particularly troublesome cases. Private sessions include intuitive readings (in person, via phone or e-mail), private and group hypnotherapy sessions, spirit detachment (in person and remote), shamanic journeying and shamanic healing, including soul retrievals and extractions. She is available for private parties or functions to do readings or conduct private workshops. Specialized age appropriate sessions, workshops, and events for children are joyfully offered. Host and producer of The Sacred Journey TV show since 1995, Joyce is often asked to mentor or lecture on a wide variety of topics. 
As a retired teacher of nearly 40 years in the West Hartford Public Schools, Joyce holds a Masters Degree in Education. During her career, she was known as a teacher who believed in lifelong learning. As such, she began monthly "Family Art Nights", hosting as many as 100 people: students, their siblings, parents, grandparents, and community members to come together and share in the fun of creating art. Highly involved in her school, she was Art Club Advisor, Student Council Advisor, Dance Team Coach, and Set Designer for the school play. Even in her retirement, Joyce is still actively involved in education and presents statewide to teachers on topics focusing on curriculum enhancement and professional development. She presents annually for the CT Art Education Association, The CT Association of Schools and is the instructor of "The Shamanic Journey as Spiritual Practice" and "Universal Consciousness" for The Graduate Institute.
Deeply committed to the welfare of animals, Joyce lives in Burlington, CT. She is on the Board of Directors of hawkwing.org and volunteers regularly on the Cheyenne River Lakota Sioux Reservation.
Professional Awards:
"2012 Connecticut Teacher of the Year Finalist"
"2011-2012 West Hartford Teacher of the Year"
"2011 Local Hero" by Ronald McDonald House Charities
"2010 Connecticut Association of Schools Middle School Teacher of the Year Finalist"
"2009 Connecticut Art Education Outstanding Middle Level Art Educator"
Professional Memberships: 
International Association of Counselors and Therapists
National Guild of Hypnotists
Foundation for Shamanic Studies
Yoga Alliance
Dream Change
National Education Association
National Art Education Association