Fees For Services:
$100 for a one hour Reading or $75 for 45 minutes – in person, via phone, Skype or e-mail
$100 for a Soul Retrieval, Extraction, or Shamanic Healing Session
$100 for a Spirit Detachment Session – in person or remote
$100 for a Private Hypnosis or Past Life Regression Session
$100 per hour for Private Parties – Includes readings or group workshops, two hours minimum plus $50 travel fee if held at your home or business.
$25 per 15 minutes for a Gong Vibrational Energy Healing Session
Consider a private workshop or group readings for your next celebration or party!
Gift certificates available in any denomination.
---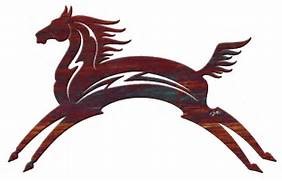 "Horse Spirit Medicine"
Shamanism & Yoga Retreat
With Joyce St. Germaine, M.S. Ed, CHt, RYT-200
Saturday, July 8, 2017
Noon – 8pm
at the home and barn of Dana Stuart-Bullock
101 Hat Shop Road, Bridgewater, CT 06752
Explore the perfect fusion of Yoga and Shamanism!
Horses offer the spirit medicine of "Personal Power". Discover yours and reclaim it! Although there are two mustang horses and a donkey on the premises, we may or may not be invited by them to interact. The spirit medicine of horse will be deeply felt by their very presence. We will engage in guided shamanic journeying to greet and spend time with these powerful spirit helpers.
You will experience:
• Heart Chakra Connection of Earth and Sky
• Cross-Cultural Shamanic Activities
• Shamanic Journeying
• Meditation
• Chakra Clearing and Balancing
• Journaling Exercises
• Hiking/Walking
• Creating a Personal Power Talisman
• Fire Ceremony
• Gentle Yoga Poses and/or Chair Yoga
• Yoga Mudras or Hand Postures
• Closing Drum Circle and Fireside Chat
All levels of yogic and shamanic experience are welcome!
Yoga modifications will include gentle chair poses.
$125 for adults or $110 for teens, elders over 65, and veterans.
(cash or check only)
INCLUDED: Fruits, nuts, cheese, hummus, raw veggies, crackers (including GF),
coffee, tea, and water.
Please bring whatever else you might want to suit your dietary needs.
Pre-registration is required as spaces are limited!
To reserve, call Joyce: (860) 675-9706 or email: jsgermaine@aol.com or
Dana: (347) 225-4278
Materials list given upon registration.
---
CHILDREN'S CIRCLE
Kaleidoscopes for Kids
with Joyce St. Germaine, M.S. Ed., RYT-200
Saturday, March 11, 2017
6:00 – 7:30 PM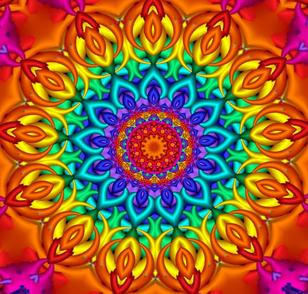 Kaleidoscopes have fascinated people for centuries and today you will understand why their name means "Beautiful to Look at". Join us to unlock the mysteries of these incredible optical masterpieces. Using plastic mirrors and other magical goodies, each child will create a real working model. Under the direction of an award winning art teacher, each kaleidoscope will become an amazing work of art, personally decorated and embellished to take home.
Weather permitting, we will end with a gathering around the outdoor fire pit.; please dress appropriately. This workshop is open to children of all ages; one adult per family must be present to assist. FUTURE CHILDREN'S CIRCLE WILL BE HELD AT NO CHARGE UNTIL FURTHER NOTICE. Kindly bring a snack or beverage to share.Please join my email list to be informed of upcoming activities and dates.
---
PAST LIFE REGRESSION
Learn how the past has a direct effect on the present and can even shape the future. You will gain an understanding of your strengths, fears, relationships, and karmic responsibilities. Learn how past life regression provides insight to those who are committed to personal and spiritual growth. You will be given a clear explanation of hypnosis and safely guided into memories of past lifetimes. Your subconscious mind, also known as your High Self, will choose lifetimes that are important and significant to you in your present life. You will learn a powerful self-hypnosis technique to use on your own for any purpose you desire. $25
Please join my email list to be informed of upcoming dates.
---
—– MONTHLY STUDY GROUPS —–
PSYCHIC/SPIRITUAL DEVELOPMENT
Is this the month that you are finally ready to join our Psychic/Spiritual Development Monthly Study Group? Many of CT's most respected readers began their training in this very group! Did you know that EVERYONE is highly intuitive and deeply spiritual? Are you getting the feeling that there is something more that you should be doing with your life? Have you always felt a little different than most people? Do you often get intuitive "hits" about everyday things? Do you wish you could become more spiritual in a natural and comfortable way? Join a group which has been meeting monthly for more than 10 years and welcomes learners of all backgrounds and levels of experience.
There is a very strong connection between spiritual growth and psychic development. Every session of our monthly study group starts with a positive, light-filling exercise. Various spiritual empowerment and meditation techniques will be practiced as you learn how to develop gifts that can be used to assist others or to increase your own connection to spirit. Reclaim your intuitive gifts and live life more joyfully. These groups are for all levels; beginners who are just starting on their paths as well as experienced mediums and readers who are looking to broaden their gifts and become more confident in their abilities. Pendulums, crystals, various divination cards, the Chakra system, numerology, and palmistry will be introduced. Tibetan singing bowls and gong vibrations will assist in releasing resistance or blockages, creating space for continued growth. Energy healing will be explored and simple, safe soul rescue techniques will be shared. At times, we will partner with spirit guides and inter-galactic teachers who are willing to share their advanced knowledge and techniques with us. Group and individual practice exercises will accelerate your progress. Too often, people strive for heightening their psychic gifts alone, without concern for the spiritual responsibilities required to use these gifts. In this group, spiritual development is the primary focus and psychic development is the added bonus! You will be amazed at how quickly and confidently you will progress! Please bring a journal and pen, a pendulum and quartz crystal if you have them. There are some available to borrow or purchase. $25 ($20 for elders over 65 and full time students)
Wednesdays, June 14, July 12, August 9 etc., 6:30- 8:30 PM and

continuing on the second Wednesday

of every month unless otherwise noted.
---
SHAMANIC STUDIES
Shamanism is the oldest known spiritual practice, dating back 60,000 to 100,000 years. It is practiced in all cultures, where shamans are sometimes known as medicine men or women. Based on the belief that the world is which we exist is merely an illusion, shamans strive to access the non-ordinary reality, divided into the Upper World, Lower World and Middle World. Access is gained via the shamanic journey, usually under the influence of drums, rattles or other instruments. These instruments are generally percussion instruments used to create sonics that vibrate at four beats per second. This beat guides the journey into theta brainwave activity, known to stimulate creative and spiritual experiences. These experiences foster deep, sacred connections and relationships with "All That Is".
In this monthly study group, you will develop an understanding of cross-cultural shamanism and become adept at journeying as you work with animal and spirit helpers, and ancestral spirits as well as elemental energies. Usually, a journey begins with a sacred smudging ceremony to honor the elements of earth, air, fire, and water. In addition, smudging is a personal and group declaration that each person has come to the ceremony in a good and kind way, with an open heart, and with respect for the teachings. Then the spirits of the seven directions are welcomed and invited to share their teachings and influences. These seven directions are the North, East, South, West, Above, Below, and Within.
Teachings from various shamanic traditions will be explored and traditional and non-traditional approaches will be introduced. Native American, Australian, Ancient Egyptian, Tibetan, Mayan, and Central and South American shamanic teachings and practices will be explored. These study group is appropriate for any level of experience. All dedicated and compassionate people who wish to initiate positive change in the world are welcome. It should be clearly understood that shamanism is not a religion but rather an all inclusive spiritual practice. You will also participate in various shamanic ceremonies, often around our fire pit and waterfall. Sometimes, when there are specific needs, we offer group healing energies to beings and places struggling with natural or man-made disasters around the world. We will focus on healing and restoring balance to self, community, and the planet. As we work together to create and utilize community energy, you will learn group and individual healing techniques.
Please bring a notebook, eye covering, drum or rattle if you have one, a feather, and a fist sized rock. (There are many drums and rattles for sharing.) $25 ($ 20 for elders over 65 and full time students)
You must preregister to reserve your space if you will be attending or the first time.
Wednesdays, June 21, July 19, August 16 etc., 6:30- 8:30 PM and continuing on the third Wednesday of every month unless otherwise noted.
---
THE MINES REOPEN IN APRIL…CHECK HERE FOR OUR NEXT HERKIMER ROAD TRIP!!!
Road Trip to mine Herkimer Diamonds!
(check back for our spring dates!)
(For adults and children ages 4 and up)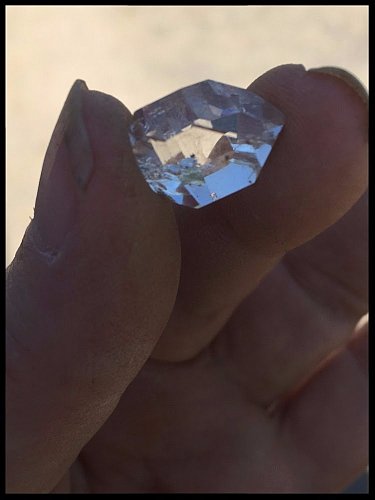 Come with us to the Herkimer area of NY, home of the incomparable, radiant, indescribably beautiful Herkimer Diamonds! How can you resist such a dazzling description???
Herkimer Diamonds were discovered here after their formation 500 million years ago. They are highly sought after for their stunning visual beauty and for their metaphysical properties. They are believed to energetically assist in balancing the chakras, attuning the intuitive senses, reversing the polarity of injuries or illnesses, and intensifying creativity and dreamwork. Some also believe that they can energetically "attune" people to their loved ones or allow one to experience a new beginning in this lifetime. Whatever you believe, you will have a great time mining for your own Herkimer Diamonds!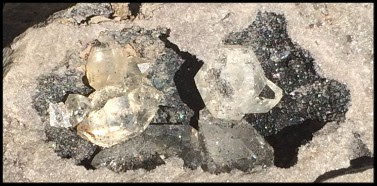 I went mining a few weeks ago and couldn't wait to share my experience with you! Mining activities are varied and are appropriate for all ages and levels of fitness. You may swing sledge hammers and picks, sift through crushed stone, or leisurely wash soil away under running water to find these brilliant gems. All mining activities are above ground, not underground as it might seem.
We will be mining at "Ace of Diamonds" mine, considered the best among the local mines. There are several reasonably priced hotels nearby. Red Roof Inn seems to be a favorite of miners and explorers. It received high ratings on Trip Advisor although I CANNOT personally offer an opinion as I haven't stayed there. They will fill up fast as it is fall foliage season. I will be camping at the mine so you are invited to stop by for a hot cup of coffee or chocolate. My little A-Frame pop up even has a microwave and stove which you are welcome to use. There are restaurants nearby or you may bring your own food. The mine has easily accessible bathrooms.
Mining fees are $10 for adults per day, children 4 – 7 are $5. These fees will be reduced if we have more than 20 people in our group. Mining hours are 9 AM – 5 PM. You may rent mining equipment or bring your own. Most items are $1 per day to rent. Safety glasses are required. Bring your own or buy them there.
Based on my experience, I would suggest safety glasses, work/garden gloves, sturdy shoes or boots if you plan on climbing the rock piles, a hat, long and short sleeved shirts, sweatshirt, and jeans or comfortable pants. I brought a bucket with a small sledge hammer, chisels, picks, and small hand broom and some simple garden tools. Then I rented a few other tools. Consider a portable stool or cushion for seating. The best specimens I found were discovered simply by casually brushing loose dirt around, without much effort or tools. You will decide how much effort or exercise you are up for. And…in the unlikely event that you do not find any Herkimer Diamonds, the gift shop will help you to purchase some to take home. And…lucky you…I will be happy to share my "secret" mining techniques!
I will be there early on Friday, October 14 through Sunday afternoon, October 16. You may want to come for one overnight or two. Most people are leaving from CT Friday late afternoon or early evening for the approximately 3 hour ride. Some are leaving CT on Saturday. A couple of people have generously offered to drive and take passengers. Please let me know if you are interested in a ride share or hotel roommate and I will help you to connect. The hotel is pet-friendly and although pets are allowed at the campsites, I'm not sure about day visitors to the mine. Please contact them to ask and also confirm with the hotel if you will be bringing pets.
PLEASE NOTE: You are responsible for making your own hotel (or camping) and transportation arrangements. Be sure to communicate with anyone you are sharing a ride or room with.
If you are carpooling, you are welcome to meet here at 29 Davis Road in Burlington, CT and leave your extra cars in my driveway. Ace of Diamonds mine has some very simple campsites available if you are rough and rugged, like me! (Just kidding…I have a heater in my camper!) Nights are very chilly there at this time of year so tenting is not advised. RV's are welcome there. Contact the mine to reserve a site.
Feel free to contact me if you have any questions about this fun adventure! Of course you may invite your family and friends. Kindly inform me if you will be going and how many people will be in your group. An accurate head count will be helpful…thanks! Email: jsgermaine@aol.com or phone: (860) 675-9706.

Ace of Diamonds Mine
NYS Route 28
Middleville, NY 13406
hone (315) 891-3855
HerkimerDiamonds.com
Red Roof Inn
100 Marginal Road
Herkimer, NY 13350
Phone (315) 866-0490
RedRoof.com
Please join my email list to be informed of upcoming activities.
---
Gong Meditations and Vibrational Energy Healing
      $25
The session will be divided into segments:
Introduction to the beautiful sounds of the gong.
Intention setting, personally and as a group.
Release of whatever is preventing you from living joyfully and completely.
Infusion of Light and Love via the powerful vibrations of the gong.
Chakra balance and restoration of the auric bands
Extended meditation, inviting you to explore the higher realms and dimensions where you may encounter angels, guides, teachers, animals, helping spirits, and more.
People have described the sounds and effects of my gong as "other-worldly" and I definitely agree! Participants have shared that they have been given helpful information and insights during these meditations. Others have experienced improved physical or emotional health and almost everyone responds with an audible "ahhhhhhhhhhhhhhhh" and a very gentle smile.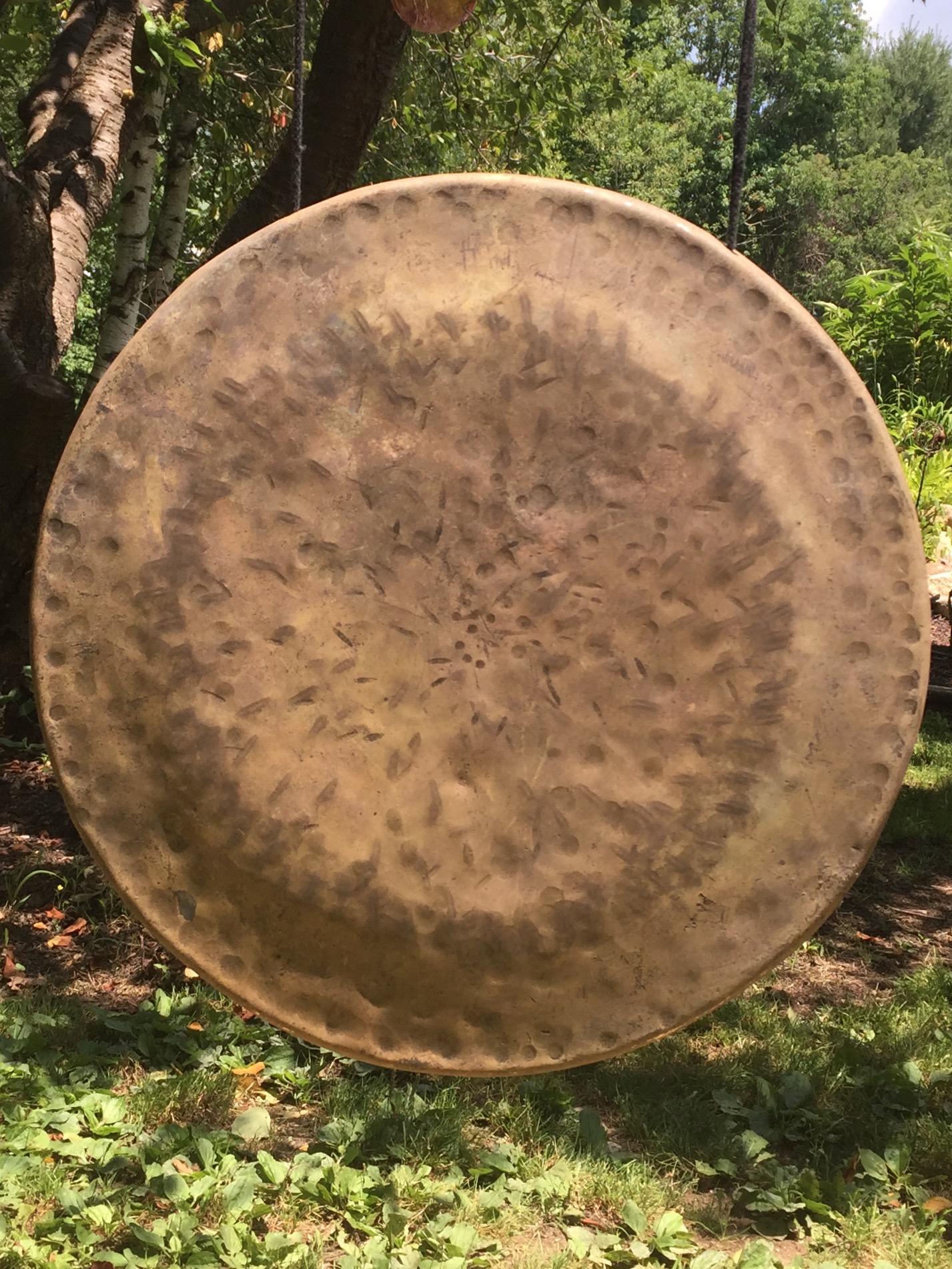 On my most recent trip to Costa Rica, I was blessed to participate in a gong meditation. I was astounded by the powerful energy of the gong and of my personal response to it. Upon my return home, I researched and listened to many different sound bites of various gongs until I found just the right one for me. I have worked with drums and rattles for many years, knowing how powerful the vibrations are and how beautifully they move energy around and into the body and mind. Unlike drums and rattles, where each beat follows the previous beat, the gong layers the sounds, creating more and more powerful vibrations. The effects are more dynamic than anything I have experienced in more than 30 years doing energy healing. The feedback I am getting after group meditations, individual and group healing, and in-person or remote/distant healing is astonishing!
I feel that often the cells of the body have collapsed, blocking energy, nutrients, medications and/or medical treatments, and any positive intentions intended to improve physical, emotional, or spiritual well-being. Simply stated, the "good stuff" just cannot get in! The powerful gong vibrations seem to open up the cells to receive those things which help create a healthy, joyful, balanced life. The gong is also helpful in releasing those things which are blocking personal or spiritual progress. Then space is created for life enhancing intentions. This new positive energy can now circulate through the body, filling the molecules, cells, and spaces between. As with any energy healing technique, this extends into the auric field.
I will be holding regular gong meditations (check back or sign up for my email list) and I am currently scheduling private in-person, phone, or remote sessions. They can be personalized for physical, emotional, and spiritual healing. We can focus on general or specific issues. Please call or email to set up an appointment for you or someone you love that might benefit. The results are equally impressive whether we connect in person, by phone, or remotely. Gong sessions are $25 per 15 minute session and may be included in a psychic reading appointment. Gong meditations and workshops are $25 per person for the two hour event.
Please join my email list to be informed of upcoming activities.
---
---
ALL WORKSHOPS, SEMINARS AND EVENTS, UNLESS OTHERWISE NOTED, ARE HELD
AT 29 DAVIS ROAD IN BURLINGTON, CT
THE DRIVEWAY IS ON DUANE LANE.
PLEASE PARK IN DRIVEWAY OR ON STREET AND PLAN TO ARRIVE NO EARLIER THAN 10 MINUTES BEFORE CLASS. WALK UNDER DECK TO SLIDING GLASS DOORS.
Consider a private workshop or plan group readings for your next
celebration or event!
Gift certificates available in any denomination.