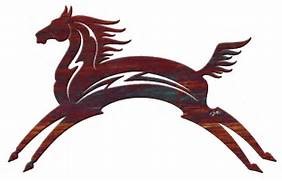 "Horse Spirit Medicine"
Shamanism & Yoga Retreat
With Joyce St. Germaine, M.S. Ed, CHt, RYT-200
Saturday, July 8, 2017
Noon – 8pm
at the home and barn of Dana Stuart-Bullock
101 Hat Shop Road, Bridgewater, CT 06752
Explore the perfect fusion of Yoga and Shamanism!
Horses offer the spirit medicine of "Personal Power". Discover yours and reclaim it! Although there are two mustang horses and a donkey on the premises, we may or may not be invited by them to interact. The spirit medicine of horse will be deeply felt by their very presence. We will engage in guided shamanic journeying to greet and spend time with these powerful spirit helpers.
You will experience:
• Heart Chakra Connection of Earth and Sky
• Cross-Cultural Shamanic Activities
• Shamanic Journeying
• Meditation
• Chakra Clearing and Balancing
• Journaling Exercises
• Hiking/Walking
• Creating a Personal Power Talisman
• Fire Ceremony
• Gentle Yoga Poses and/or Chair Yoga
• Yoga Mudras or Hand Postures
• Closing Drum Circle and Fireside Chat
All levels of yogic and shamanic experience are welcome!
Yoga modifications will include gentle chair poses.
$125 for adults or $110 for teens, elders over 65, and veterans.
(cash or check only)
INCLUDED: Fruits, nuts, cheese, hummus, raw veggies, crackers (including GF),
coffee, tea, and water.
Please bring whatever else you might want to suit your dietary needs.
Pre-registration is required as spaces are limited!
To reserve, call Joyce: (860) 675-9706 or email: jsgermaine@aol.com or
Dana: (347) 225-4278
Materials list given upon registration.
---
ROAD TRIP TO HERKIMER, NY TO MINE FOR HERKIMER DIAMONDS!!!
Road Trip!!!
Friday – Sunday, May 19-21, 2017
to mine Herkimer Diamonds!
(For adults and children ages 4 and up)
Come with us to the Herkimer area of NY, home of the incomparable, radiant, indescribably beautiful Herkimer Diamonds!
How can you resist such a dazzling description???
Herkimer Diamonds were discovered here after their formation 500 million years ago. They are highly sought after for their stunning visual beauty and for their metaphysical properties. They are believed to energetically assist in balancing the chakras, attuning the intuitive senses, reversing the polarity of injuries or illnesses, and intensifying creativity and dreamwork. Some also believe that they can energetically "attune" people to their loved ones or allow one to experience a new beginning in this lifetime. Whatever you believe, you will have a great time mining for your own Herimer Diamonds!
I went mining a few times last year and loved it!!! Mining activities are varied and are appropriate for all ages and levels of fitness. You may swing sledge hammers and picks, sift through crushed stone, or leisurely wash soil away under running water to find these brilliant gems. All mining activities are above ground, not underground as it might seem.
We will be mining at "Ace of Diamonds" mine, considered the best among the local mines. There are several reasonably priced hotels nearby. Some folks have reserved rooms at Inn Towne Motel for this trip. Red Roof Inn seems to be a favorite of miners and explorers. It received high ratings on Trip Advisor although I CANNOT personally offer an opinion as I haven't stayed there. They will fill up fast as it is college graduation season. Rumor has it that they are already booked that weekend. Ace of Diamonds mine has some very simple campsites available. Nights are very chilly there at this time of year. RV's are also welcome there. Contact the mine to reserve a site. There are also other campgrounds including a KOA nearby with far greater amenities. I will be camping right at the mine so you are invited to stop by for a hot cup of coffee or chocolate. My little A-Frame pop up even has a microwave and stove which you are welcome to use. There are restaurants nearby or you may bring your own food. The mine has easily accessible bathrooms. We usually end our day sharing mining stories and exciting discoveries around the fire pit.
Mining fees are $10 for adults per day, children 4 – 7 are $5. These fees will be reduced if we have more than 20 people in our group. Mining hours are 9 AM – 5 PM. You may rent mining equipment or bring your own. Most items are $1 per day to rent. Safety glasses are required. Bring your own or buy them there.
Based on my experience, I would suggest safety glasses, work/garden gloves, sturdy shoes or boots if you plan on climbing the rock piles, a hat, long and short sleeved shirts, sweatshirt, and jeans or comfortable pants. I brought a bucket with a small sledge hammer, chisels, picks, and small hand broom and some simple garden tools. Then I rented a few other tools. Consider a portable stool or cushion for seating. The best specimens I found were discovered simply by casually brushing loose dirt around, without much effort or tools. You will decide how much effort or exercise you are up for. And…in the unlikely event that you do not find any Herkimer Diamonds, the gift shop will help you to purchase some to take home. And…lucky you…I will be happy to share my "secret" mining techniques!
I will be there early on Friday, May 19 through Sunday afternoon, May 21. You may want to come for one overnight or two. Most people are leaving from CT Friday late afternoon or early evening for the approximately 3 hour ride. Some are leaving CT on Saturday. Please let me know if you are interested in a ride share or hotel roommate and I will help you to connect. Some hotels are pet-friendly and although pets are allowed at the campsites, I'm not sure about day visitors to the mine. Please contact them to ask and also confirm with your hotel if you will be bringing pets.
SCROLL DOWN TO FIND ACE OF DIAMONDS CONTACT INFO
PLEASE NOTE: You are responsible for making your own hotel (or camping) and transportation arrangements. Be sure to communicate with anyone you are sharing a ride or room with.
If you are carpooling, you are welcome to meet here at 29 Davis Road in Burlington, CT and leave your extra cars in my driveway.
Feel free to contact me if you have any questions about this fun adventure! Of course you may invite your family and friends. Kindly inform me if you will be going and how many people will be in your group. An accurate head count will be helpful…thanks!
Email: jsgermaine@aol.com or phone: (860) 675-9706.
Ace of Diamonds Mine
NYS Route 28
Middleville, NY 13406
Phone (315) 891-3855
www.herkimerdiamonds.com
Email: aceherks@adelphia.net
Yoga & Shamanism Retreat
CHECK BACK FOR INFORMATION ABOUT UPCOMING RETREATS TO COSTA RICA AND BELIZE!!! SOME ARE FOR ADULTS AND SOME ARE FOR FAMILIES!
The playful energies of the jungle are inviting you for this perfect fusion of Yoga and Shamanism!
Questions: jsgermaine@aol.com / (860) 675-9706
About Your Jungle Adventure: This retreat is for all levels of yogic and shamanic experience. Yoga classes will be all level based and a meditative movement with breath. Heart opening asanas to slowly release anything holding you back from your fullest potential. Shamanic ceremonies and activities will be gentle and uplifting…the perfect introduction into the oldest known spiritual path, dating back between 60,000 and 100,000 years. This is also an opportunity to deepen your present spiritual practice. You will come to love the powerful energy of the jungle and be introduced to the ancestral spirits of the shamans who came before us and who welcome all of us to share their knowledge. Joyce will share some magical stories of being personally invited by these long-ago shamans to practice and teach here.; some of her most powerful, transformational shamanic experiences occurred right here!
Joyce St. Germaine, M.S. Ed, CHt., RYT-200
Owner of "The Sacred Journey" Center for Spiritual Studies, Joyce is a Certified Shamanic & Shapeshifting Practitioner, Certified Hypnotherapist, Spiritual Counselor, Intuitive Reader, and TV Show Host/Producer. She recently completed her training as RYT-200 Yoga Teacher. An award-winning art teacher of 37 years, Joyce has taught spiritual studies to children and adults for over 25 years. A lifelong student of cross-cultural Shamanic teachings, Joyce has studied and worked one-on-one with Mayan Shamans in Belize. She will offer daily group activities designed to celebrate and honor the energies of the jungle and deepen your connection with "All That Is". Joyce will also be available for optional Private Readings, Shamanic Energy Healing, and Soul Retrieval sessions.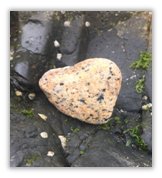 ---
WE HAD A WONDERFUL EXPERIENCE!!! CHECK BACK FOR INFORMATION ABOUT FUTURE CRUISES!!!
"Psychic Development Cruise"
April 10 – 14, 2017 Miami to Bahamas
with Joyce St. Germaine, M.S. Ed, CHt, RYT – 200


ROYAL CARIBBEAN INTERNATIONAL:
Aboard the Beautiful "Empress Of The Seas"
Departing from Miami with Stops
in Coco Cay and Nassau, Bahamas
We are all highly intuitive but often don't have any idea how to best nurture and use these natural gifts. Learn how to turn that primal "gut feeling" into a finely tuned, accurate perceptual ability. A very simple self-empowerment meditation technique will be shared as you learn how to develop gifts that can be used to assist others or to increase your own connection to spirit. Reclaim your natural gifts and live life more joyfully! This small private cruise group is for all levels; beginners who are just starting on their paths as well as those who are experienced and are looking to broaden their gifts and become more confident in their abilities. Pendulums, Soul Cards, and Palmistry will be introduced. You will receive a Pendulum with Chart, Soul Cards, and Palmistry Mini-Book to take home along with the knowledge to gather information and confidently make decisions whenever and wherever you are! You will have fun, grow spiritually, blossom psychically, and gain the confidence to use your personal "Psychic Toolbox ".
• $443 – $494 Per Person (Dbl. Occ.) Inside or Ocean View Cabins.
• LIMITED cabins available. Book now! Cabins are going fast!
• INCLUDES all cruise ship fees, taxes, fees, and port expenses.
• NOT INCLUDED: Gratuities and other on board expenses and travel to and from ship.
• NOT INCLUDED: $200 for four Psychic Development Workshops with Joyce and your "Psychic Toolbox" of Soul Cards Deck, Pendulum with Chart, and Palmistry Mini-Book to take home!
Joyce St. Germaine has been guiding people on their spiritual paths for over 30 years as an Intuitive Reader, Spiritual Counselor, Shamanic Practitioner, Hypnotherapist, and Mentor. She recently completed her training as a Yoga Teacher and is a retired multi-award winning art teacher of 37 years. She has taught Psychic Development, Shamanism, and Art at National and International Retreats. Joyce has been consulted by various police departments to solve particularly difficult cases with astonishing results.
Travel Consultant: Becky Liddell of UTravel, (716) 386-2080, utravel@windstream.net
Joyce St. Germaine, (860) 675-9706, jsgermaine@aol.com


Psychic Development Cruise Flyer